Archives by date
You are browsing the site archives by date.
Circular No.2 Dear CHAI Member, Greetings from CHAI Southern Branch Secretary. The CHAI Southern Branch Executive Body Meeting was held on 18.07.2022 at Dharmaram College, Bangalore, to finalize the programmes of the Southern Branch Conference to be held from the afternoon of 17 to 19 October noon, 2009. The venue of the meeting is DBCLC […]
My Dear CHAI SIB Members, A General Gathering of the CHAI Southern Branch was held on May 5, 2022 at Shillong. It was decided to have the next CHAI Southern Branch Conference held at Trichur from the Afternoon of Saturday October 17th to the Afternoon of Monday October 19th, 2009 in the premises of the […]
Vailankanni– Tranquebar September 29th– October 1st 2006 The 13 Branch Conference of CHAI, Southern Branch was held at Vailankanni-Tranquebar from September 29th to October 1st 2006. The Conference was well attended by scholars. Accommodation for the Delegates was arranged in the St. Francis Assisi Pilgrims' Quarters, Vailankanni. The inaugural session and other sessions were held […]
The Western India Branch will hold its annual seminar in Nashik on 20th-21st Sept.- Mrs. Agnes de Sa, Secretary, WIB
An informal Branch meeting was held on May 5, 2022 from 9 pm to 9.50 pm in the North East Hill University (NEHU) Conference hall, attached to the University Guest House. This meeting was held on the occasion of the 14th CHAI Triennial Conference. The Southern Branch meeting was attended by the following members: Mr. […]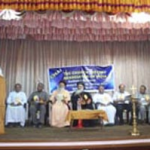 Seated on the daïs are (l to r) : Dr. Francis Thonippara (SIB Secretary cum Treasurer), Dr. "Cardinal " Thomas Edmunds (CHAI Nat'l Vice-President), Metropolitan Dr. Mar Aprem, Catholicos Elect Paulose Mar Milithios who inaugurated the Conference, Therambil Ramakrishnan MLA and former Speaker of the Kerala Legislative Assembly, Dr. Oberland Snaitang (CHAI Nat'l President), Dr. […]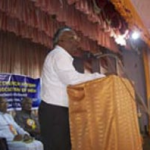 Welcome Speech : Chev. Prof. George Menachery, General Conveneor of the Conference and CHAI Nat'l General Secretary. Dr. Thonippara and Dr. Thomas Edmunds are also in the picture.
Thamasorma Jyothir.… The CHAI SIB 14th Triennial Thrissur DBCLC Hall 17th October